Providing More Than Five Decades of Quality Tree Care In Suburban Chicagoland.
Our tree care company started with a humble beginning in a residential bungalow on Chicago's northwest side in 1964. Since then, Hendricksen Tree Care has evolved and is now recognized as one of the pre-eminent tree care and preservation companies serving the needs of businesses and homeowners located in the north and northwest suburban communities of Chicago.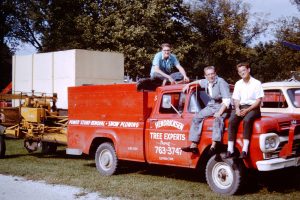 Today, the business is owned and operated by Darlene Hendricksen and her son, Bob Hendricksen, a certified and highly-trained arborist. The Hendricksens – along with our capable office and field staff – exhibit considerable pride and professionalism in offering the very best in tree care maintenance for both our commercial and residential customers.
Now headquartered in Wheeling, IL, Hendricksen Tree Care offers clients ongoing tree preservation programs running the gamut from fertilizing and pruning to spraying and cabling. We are committed to tree preservation initiatives that are well planned and provide a long-term financial investment to all customers.
Hendricksen Tree Care's staff includes experienced and friendly field crews. We are fully insured and will provide detailed estimates for all maintenance to be performed.
For more information, call Hendricksen Tree Care company at (847) 305-5524
---
Reviews:
Review by Steven Curl
Tree Care Services
Rating

"They took down a pine in my front yard. They did a great job at fair price. Highly recommend, would hire again."
---
Review by Scott Hansen
Tree Care Services
Rating

"Great tree trimming company very professional. Upfront with your costs. Considerate of your property."