Beautiful, healthy trees bring any environment to life. They enrich our lives at work and play, at the office and at home. Like any living thing, they require a certain level of care to not only survive, but to flourish.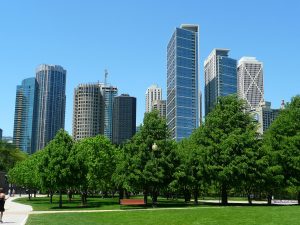 At Hendricksen Tree Care, a tree care company serving Chicago's North and Northwest suburbs, we are committed to taking care of your trees. We take a holistic approach to tree care, using safe, effective techniques to help ensure the health of our customers' trees.
Hendricksen Tree Care services trees for major commercial and municipal properties:
Corporate centers
Apartment complexes
Condominium associations
Municipal grounds
Home Owners Associations
WHAT CAN HENDRICKSEN TREE CARE DO FOR YOU?
Once-a-year tree treatment
With our expert treatment in the spring, we can provide efficient, safe, and economic tree care that will nourish and protect your trees throughout the year.
Safe, organic tree fertilization
Disease and insect prevention
We can protect your trees from insects, including the Japanese beetle and emerald ash borer.
Expert tree pruning
Don't hire just anybody to prune trees. Hire experts who maintain your tree instead of destroying it with improper tree pruning.
Budget care
We maintain budgets, too! We know our customers must stay within a budget.
We spend your allocated funds wisely.
Treatment for urban stress
Certain urban environments are extremely stressful for trees. Parkway, street-side, and container plantings are hard on trees. We can help alleviate stressful environmental problems and consult with you about solutions.
Storm tree service
We clean up what storms leave behind and help save damaged trees. We are experts in tree removal.
Do what many other commercial and municipal managers have done: Call us at (847) 305-5524 or contact Hendricksen Tree Care today.
We'll tell you what we can do to enhance your property with expert tree care and preservation.
---
Reviews:
Review by Steven Curl
Tree Care Services
Rating

"They took down a pine in my front yard. They did a great job at fair price. Highly recommend, would hire again."
---
Review by Scott Hansen
Tree Care Services
Rating

"Great tree trimming company very professional. Upfront with your costs. Considerate of your property."