If you are an Illinois homeowner, you know that healthy trees are an important part of your property. They beautify and enhance its value and provide enjoyment to your family and friends. In many ways, a growing tree is an investment in the future.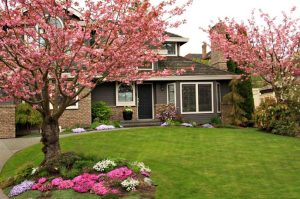 But – to be healthy and to flourish – trees need maintenance and nourishment. And sometimes, when they're attacked by insects or disease, they need special care. That's when the tree experts at Hendricksen Tree Care can help you.
Hendricksen Tree Care is a tree maintenance company that provides services for residential properties in Chicago's North and Northwest suburbs such as Arlington Heights & surrounding areas. Our tree care approach is a holistic one. We strive to maintain and preserve trees. We have the skills and know how to protect trees from disease and insects and – for everyone on a budget – we offer our services at cost-efficient rates.
WHAT CAN HENDRICKSEN TREE CARE DO FOR YOU?
Once-a-year tree treatment
With our expert tree treatment in the spring, we can provide efficient, safe, and economic tree maintenance that will nourish and protect your trees throughout the year.
Safe, organic tree fertilization
Hendricksen Tree Care uses organic fertilizer injected by syringe into the soil around the tree. We never over-spray and our crews are insured.
Tree disease and insect control
We can protect your trees from insects, including the Japanese beetle and emerald ash borer.
Expert tree pruning
Don't hire just anybody to prune trees. Hire experts who maintain your tree instead of destroying it with improper pruning.
Storm tree service
We clean up what storms leave behind and help save damaged trees. We are experts in tree pruning.
WHY YOU NEED THE PROFESSIONALS AT HENDRICKSEN TREE CARE
Our experienced, trained professionals can nurse your sick trees back to health.
Our once-a-year maintenance helps your trees stay healthy and beautiful for the future.
Most tree care treatments take less than one hour per tree.
We help watch the bottom line with you. We know you're on a budget and we respect that.
So if you're concerned about your trees, call or contact the team committed to preserving them:
Call Hendricksen Tree Care at (847) 305-5524
---
Reviews:
Review by Steven Curl
Tree Care Services
Rating

"They took down a pine in my front yard. They did a great job at fair price. Highly recommend, would hire again."
---
Review by Scott Hansen
Tree Care Services
Rating

"Great tree trimming company very professional. Upfront with your costs. Considerate of your property."