Providing tree care service is a dangerous job.  One wrong move when climbing or pruning a tree can result in an injury or property damage.  That is why our arborists at Hendricksen Tree Care receive thorough training and certification in tree care safety.  We are committed to providing the best possible tree care services for homes and businesses in the north and northwest Chicago suburbs and this commitment includes safety.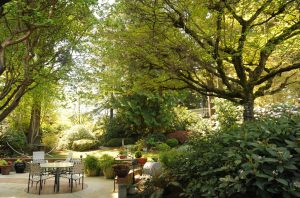 As an accredited tree care service provider, we care deeply about the safety of our employees and our customers.  We guarantee that our arborists will always use the best safety equipment and practices on your property to prevent injury to you and themselves, and to help prevent property damage.  All of our arborists at Hendricksen Tree Care have tree care certification from the International Society of Arboriculture (ISA) and we as a company are accredited by the Tree Care Industry Association (TCIA).
ISA Tree Care Certification

Every arborist we hire at Hendricksen Tree Care must be certified by the International Society of Arboriculture (ISA).  The ISA is a non-profit organization that
promotes the professional practice of arboriculture and a greater awareness of trees through research, technology, and education.  Arborists seeking certification from the ISA must go through training and pass examinations.  Once they receive certification, they need to renew it every 3 years and stay current on their training and education.
The training and certification from the ISA that our arborists receive ensures that they have the knowledge and credentials to provide quality tree care services while using safe practices.  Safety is a very important component of good tree care services along with productivity and care quality.  The ISA only issues certification to arborists that not only have the knowledge and experience to provide effective tree care, but also an understanding of how safety plays a crucial role in quality tree care.
You can trust that our ISA certified arborists will know how to properly care for your trees and always follow appropriate tree care safety practices when providing care.
TCIA Accreditation

Hendricksen Tree Care is an accredited tree care service provider with accreditation from the Tree Care Industry Association (TCIA).  The TCIA is the oldest trade association of tree care service providers and has been in existence since 1938.  They have developed the standard of tree care practice and they offer continuing education and training in tree care safety to help its members work within the safety and performance standards of the industry.  The TCIA only gives accreditation to tree care providers who complete their services in a safe, legal, and ethical manner.
Our TCIA accreditation shows that we have demonstrated the capacity to provide complete tree care services while following all necessary regulations.  Our Chicagoland arborists are committed to providing you with quality tree care and we emphasize good safety practices to help keep ourselves and your property protected.  We also work with a sense of honesty and integrity and we will only recommend a service if your tree needs it.
If you need tree care services in the north or northwest Chicago suburbs, call us or contact our experts at Hendricksen Tree Care.  You can trust our ISA certified arborists to provide quality tree care while following the necessary safety protocols.
---
Reviews:
Review by Steven Curl
Tree Care Services
Rating

"They took down a pine in my front yard. They did a great job at fair price. Highly recommend, would hire again."
---
Review by Scott Hansen
Tree Care Services
Rating

"Great tree trimming company very professional. Upfront with your costs. Considerate of your property."
---