Call Now: (847) 305-5524
In Park Ridge, IL, tree fertilization services can make a big difference when it comes to the health and vitality of your trees. This is because of the variety of dangers to trees that are common in the area, such as hard winters, insects, and tree diseases. Our tree care fertilization services here at Hendricksen Tree Care will help to prevent damage associated with all of these causes, and properly prepare your trees for the future.
The Importance of Tree Fertilizer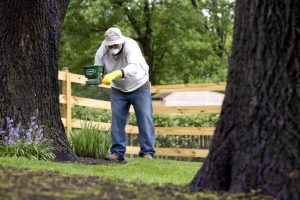 There are many events that regularly occur in Park Ridge that can leave your trees heavily damaged. Among them include pest infestations, tough weather conditions, and disease contraction. If these troubles are not taken seriously, your trees can suffer from the following symptoms:
Undersized or discolored leaves
Decaying tree limbs
A thinning canopy
Small holes in tree bark
Death
One of the best ways to prevent these ailments is to provide your trees with fertilizer. Our Hendricksen Tree Care specialists will make use of the most appropriate fertilization methods and mixtures to promote vastly improved tree health.
Our Approach to Tree Fertilization
Depending on the types of trees in question, our Hendricksen Tree Care arborists can provide spring or fall fertilization, as well as various application combinations and methods. We will determine an optimal approach by first inspecting and assessing your trees, and then proceed to applying the appropriate fertilizer.
Generally speaking, there are two common forms of fertilization:
Direct Injection: This process is rather self-explanatory, as the fertilizer will be directly injected into the tree. It is almost like an I.V. for trees. This method reduces waste, and ensures that the tree will receive the nutrients instead of competing organisms (such as grass and other plants). The combination of nutrients will depend upon the specific needs of the tree in question.
Soil Injection: People generally think of a process similar to this method when they hear the word "fertilization". Essentially, the fertilizer will be injected into the soil around the roots of the tree instead of directly into the tree. While there are slight possibilities of waste and competition from nearby plants, the vast majority of the nutrients will be absorbed by the tree.
Both of these fertilization methods have their pros and cons, and our specialists will determine which is appropriate depending on the unique needs of your trees.
If you have any questions about our tree care fertilization services, or would like to schedule an appointment, we encourage you to contact our Hendricksen Tree Care representatives at (847) 305-5524. We proudly service those in the Park Ridge, IL, area, and look forward to improving the health of your trees.
---
Reviews:
Review by

Steven Curl
Rating

"They took down a pine in my front yard. They did a great job at fair price. Highly recommend, would hire again."
---
Review by

Scott Hansen
Rating

"Great tree trimming company very professional. Upfront with your costs. Considerate of your property."
---