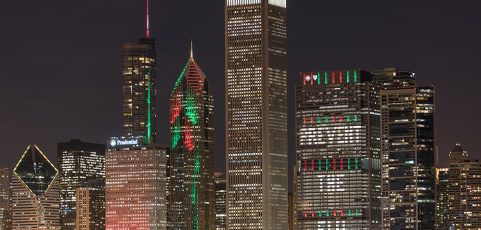 Updated for 2020. It may be hard to believe, but we are only a few days away from Christmas.  This year was no ordinary year and while there are COVID-19 restrictions in Illinois, the holidays will still come as a relief to many.  There may not be large family gatherings this year, you can still cherish your time over the holidays with your immediate family.
One holiday activity that you can still enjoy with your family this season is taking in the Christmas light displays throughout the Chicago area.  There are several displays throughout the Chicago suburbs and the city itself where holiday lights are up through New Year's Eve.  You can your family can see these displays from your car or from a safe distance outside.
When people think of Christmas trees and other holiday decorations, holly trees and pines are typically the first that come to mind.  The dark green leaves and bright red drupes of holly trees are found on wreaths and other decorations while pine trees are commonly used as Christmas trees.  However, the holiday light displays found throughout the Chicago area do not limit themselves to just these types of trees.  Trees of all types are lit up this time of year with bright, colorful holiday lights to celebrate the season.  All throughout Chicagoland, residents can view impressive light displays in cities, parks, and even in their own neighborhoods.
Taking in Christmas tree light displays is a favorite holiday season past time for many.  Some events may charge a fee to enter but there are also plenty of opportunities to see Christmas tree lights without spending a dime.  In this guide, we will highlight the best places where you can see Christmas tree light displays throughout the city of Chicago and the suburbs.  Visiting these impressive light displays is a safe family activity for this holiday season.
If you want to make sure your trees receive the proper care that they need to survive the winter, call our experts at Hendricksen Tree Care.  We provide complete tree services including tree trimming to get your trees prepared for the winter.
Aurora's Festival of Lights
The first holiday light display is the Aurora Festival of Lights that takes place in Philips Park in Aurora, IL.  The Aurora Festival of Lights is a giant display sprawled out through the entire park that includes lights shaped like reindeer, elves, and stockings as well as lights on the trees.  This display is free to attend, and it is open from the day after Thanksgiving to the day after Christmas from 5 pm to 9 pm Sunday through Thursday and 5 pm to 10 pm Friday and Saturday.
Lehnertz Avenue Christmas Display
The Lehnertz Avenue Christmas Display is a neighborhood display that is also in Aurora, IL.  Each year, the residents of Lehnertz Avenue put out lights and displays that depict the birth of Jesus Christ as well as lit up Peanuts characters.  Visitors drive through the neighborhood to take in the lights and displays that illuminate the entire street.  The drive down Lehnertz Ave concludes at a life-size, brightly lit up Nativity scene.  This display is free to attend, and people can visit from 5 pm to 10:30 pm from the second Sunday in December through New Year's Day.
Symphony of Lights in Bolingbrook
The Symphony of Lights display in Bolingbrook, IL is a nightly light show in the Promenade which is a large open-air shopping center just west of I-355.  This display includes 250,000 LED lights that are set to the music of the Trans Siberian Orchestra which starts on the hour between 5 pm and 9 pm.  The buildings in the Promenade are decorated with lights and there is a large Christmas tree and other decorations in the space between the buildings.  It is free to attend this display and it runs from mid-November through December 31.
Holiday Magic at Brookfield Zoo
Holiday Magic at Brookfield Zoo is a big holiday light display spread out across the entire zoo.  This display includes ice sculptures, a 41-foot talking Christmas tree, and more than a million lights.  Visitors can see the light display at the Brookfield Zoo every Saturday and Sunday from November 30 through December 22, and from December 26 through December 31.  It is free for members to attend, but non-members must buy tickets.
Christmas Tree in Millennium Park
Each year, a 50-foot-tall Christmas tree is decorated with several thousand Christmas lights in Millennium Park in downtown Chicago.  This tall tree really stands out against the Chicago skyline as its backdrop and it is right around the corner from other popular holiday activities such as the Christkindlmarket that happens in Daly Plaza.  Visitors can see the Christmas tree from mid-November until January 1 and there is no cost to walk through Millennium Park.
Christmas Around the World and Holidays of Light at the Museum of Science and Industry
Temporarily closed. The Christmas Around the World and Holidays of Light displays are annual displays at the Museum of Science and Industry that have been a tradition since 1942.  The main Christmas tree of this display is four stories tall and there are more than 50 smaller Christmas trees and displays that surround the main tree.  Each tree is decorated to represent holiday traditions from other cultures and countries.  Visitors can see these displays in the museum from mid-November through December 31 and the price is included in the entrance fee.
The Magnificent Mile
Each year on the Saturday before Thanksgiving, the Magnificent Mile transforms into a mile-long holiday light display that consists of Christmas trees and more than a million lights.  Visitors can walk up and down the Mag Mile, taking in the festive light display while visiting the famous shops and restaurants.  While shopping on the Magnificent Mile can cost you, it is free to walk the strip and view the holiday light displays.
Lincoln Park Zoo Zoolights
For the past 25 years, the Lincoln Park Zoo has put on the Zoolights festival featuring holiday light displays throughout the zoo.  This event features around 2.5 million lights and other holiday festivities such as holiday crafts and Santa Claus.  This is a free event at the Lincoln Park Zoo that begins in late November and runs through January 5, 2020.  However, the zoo is closed on Christmas Eve and Christmas Day.
Winter WonderFest at Navy Pier
The Winter WonderFest is an impressive indoor Christmas light display at Navy Pier.  Visitors can enjoy the 42-foot-tall Christmas tree along with thousands of lights in the 170,000 square foot indoor space protected from the harsh winter weather.  In addition to the Christmas tree and light displays, Winter WinderFest includes an indoor skating rink, ferris wheel, live snow globe, and other attractions.  This festival runs from December 6 through January 12 and those visiting must buy tickets for the event.
Illumination – Tree Lights at the Morton Arboretum
The Morton Arboretum covers more than 50 acres in Lisle, IL and during the Christmas season, the trees of the arboretum are lit up for its Illumination festival.  This a different kind of Christmas light display as the trees themselves are not decorated with holiday lights.  Rather, interactive lighting effects are used to illuminate the trees as visitors walk down the path.  The lights highlight the beauty of the trees and holiday music accentuates the display.  This event runs from November 23 through January 5 and visitors must be a ticket to attend.
Holiday Lights in Rosemont
Each Christmas season, the Village of Rosemont puts on a Christmas tree light display throughout the entire village.  There are many locations in Rosemont that visitors can walk and see the colorful displays of lights on the trees and bushes.  There is no cost to take in the holiday light displays in Rosemont that will be up until December 31.
Magical Animated Holiday Light Show at Randhurst Village
The Magical Animated Holiday Light Show takes place in Randhurst Village in Mount Prospect, IL.  This light show is projected onto the Hampton Hotel at the corner of Rand and Elmhurst Roads and it features 3-D animation depicting snow, elves, and other holiday imagery with a soundtrack of holiday music.  This show is free to attend but you need to visit quickly as this show runs from December 7 through December 14.
Winter Tree Care Services from Hendricksen Tree Care Throughout Chicagoland
If you love to see Christmas light displays with your family, check out the events listed above to see the most impressive tree displays that the Chicago area has to offer.  There are several light displays that happen in some of the most popular areas in Chicago and many of these events are totally free to visit.  Taking in the holiday light displays is also a safe way to give your family some cheer during a holiday season that is anything but ordinary.  Regardless of which combination of events you choose to attend, you will be treated to some of the most impressive Christmas tree lights and light displays throughout the Chicago area.
It is important to remember that your trees may be in need of maintenance before the winter weather fully sets in.  Certain fertilizer treatments and winter tree pruning can help your trees better survive the harsh Chicago winter season.  Make sure you call our professional arborists at Hendricksen Tree Care to give your trees a final inspection and the care they need to survive the cold weather and grow back strong in the spring.