Trees must be able to withstand many things in their environment that can cause harm from storms to diseases and invasive insects.  The best way to ensure that your trees can withstand these environmental factors is to provide them with regular care and maintenance.  A disease or an insect infestation can cause serious damage to your trees and if they are not treated immediately, they may need to be cut down and removed.  At Hendricksen Tree Care, we provide complete tree maintenance services in Glenview, IL to help prevent and treat insect infestations, diseases, and other issues with your trees.  Our arborists will diagnose any issues with your trees and suggest a solution that will help restore their health and durability.
Tree Disease Treatment in Glenview, IL
Like other living things, your trees are vulnerable to diseases that can result in serious damage to the canopy.  Trees may contract diseases such as Anthracnose and Verticillium Wilt, and harsh conditions like droughts make them more vulnerable to disease.  Our expert arborists will look for signs of tree diseases such as thinning canopy, damaged leaves, and foreign substances on the leaves and branches, and diagnose the problem based on the symptoms.  We will then suggest treatment options that will treat the symptoms of the disease and restore the health of the tree.
Tree Insect Treatment in Glenview, IL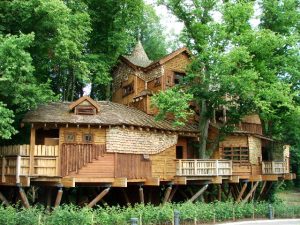 Tree insects such as the emerald ash borer and Japanese beetle are a threat to cause considerable damage to your trees.  Japanese beetles are an invasive species that feed on the leaves of a tree, leaving only the veins.  The emerald ash borer causes even more damage by burrowing directly into the trunk and branches of ash trees to feed on the wood and lay its eggs.  You can check your ash trees for emerald ash borer infestations by looking for the D-shaped holes that they create in the bark to use as an entrance and exit to the trunk.
A tree insect infestation is a serious issue because of the damage it can cause.  Our arborists can identify signs of an insect infestation and provide treatment options to help eliminate the infestation and restore the health of your trees.  We offer several treatment options including trunk injections, soil injections, canopy spray, and bark spray to remove the pests.  Once we identify the infestation, our arborists will discuss our treatment options with you and help you choose a solution that is effective and within your budget.
Tree Maintenance in Glenview, IL
While tree diseases and insect infestations are impossible to avoid entirely, you can greatly reduce the risk by making sure your trees receive the proper maintenance.  Hendricksen Tree Care provides the following tree maintenance services in Glenview, IL to help preserve the health and life of your trees:
Regular treatments once per year
Tree pruning and trimming
Application of organic fertilizer
Tree disease and insect control and prevention
Storm tree service
If your trees are showing any signs of a major issue such as an insect infestation or disease, make sure you call Hendricksen Tree Care immediately.  We can properly diagnose and address diseases and insect infestations, and we can also provide preventative tree maintenance to help avoid these issues.  Contact Hendricksen Tree Care at (847) 348-8302 if you would like our professional arborists to treat and maintain your trees in Glenview, IL.
---
Reviews:
Review by Steven Curl
Tree Care Services
Rating

"They took down a pine in my front yard. They did a great job at fair price. Highly recommend, would hire again."
---
Review by Scott Hansen
Tree Care Services
Rating

"Great tree trimming company very professional. Upfront with your costs. Considerate of your property."
---