The presence of trees on your property has several benefits from the natural beauty they add to the shade and oxygen they provide.  Planting a new tree in your yard is a great way to enhance the landscape and the curb appeal of your home.  However, you can't just plant any tree anywhere and expect it to thrive.  You must account for several factors when choosing a tree for your property including the soil condition and climate among others.  If you want to plant a tree on your property in Arlington Heights, IL, the arborists of Hendricksen Tree Care can help.  We provide tree planting and transplant services to ensure that the right type of tree is planted in the best possible place to thrive.
Why Plant a Tree?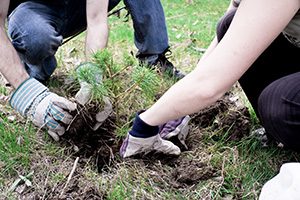 Trees add much more to a landscape than natural beauty, they can benefit you and your property in several ways.  The shade provided by a tree will help keep the area around your home cooler which can lower your cooling costs, and they create fresh oxygen and help prevent flooding from rain.  You can also increase your property value by working a couple of trees into the landscape.  Planting a tree is a fun project for you and your family as well because you can watch it grow over the years.
Tree Planting in Arlington Heights, IL
When planting a new tree, it is important to choose the right type of tree that can thrive in your environment, and it must be planted in the best place on your property.  Our arborists will help you choose a new tree based on the soil conditions of your yard, local climate, and pests and diseases that are common in the area.  We will also do an evaluation of your property to determine the ideal spot to plant your tree to ensure that it has the best chance to grow to its full potential.  Planting the right tree in the right spot will not only ensure that your tree will thrive, but it will also help you avoid the hassle of removing or transplanting a tree that is not suited for the environment.
Tree Transplanting
Not all trees are planted in the best growing spot on a property.  In these instances, the trees might not be getting the sunlight or nutrients they need to survive.  If there is a tree on your property that is not in the best spot, we can remove it and replant it in a better spot with our transplanting services.  Our arborists will carefully remove the tree from its current spot and move it to a new spot where it has a better chance of thriving.  If you aren't sure if a certain tree on your property could benefit from a transplant, talk to our arborists to determine the best course of action.
If you are ready to beautify your property in Arlington Heights, IL with the addition of a new tree, contact Hendricksen Tree Care at (847) 348-8302 to help with our tree planting services.  You can trust our professionals to advise you on the best tree types for your property and where to plant them.  A new tree planted in the right spot will benefit your property for years to come.
---
Reviews:
Review by Pavlin R. Panayotov
Tree Care Services
Rating

"I have a tree in the yard of a home that I own and rent that I thought needed to be removed. The branches were hanging over the neighbor's property and I did not want my tree to cause any damage. One tree removal professional was ready to remove the tree, but I called Hendricksen Tree Care for a second opinion. Bob Hendricksen came to my property and told me it is best to not remove the tree. He said that he could provide treatment for the tree that will help it live strong for another 10 years. He also mentioned that removing the tree could lead to issues with water pooling in the yard. Instead of removing the tree, Hendricksen Tree Care provided treatment to help it stay strong and healthy.
I want to thank Bob Hendricksen for providing treatment to save the tree, even though the treatment service cost less than removing it. His passion for providing excellent tree care saved my tree!"
---