Planting a new tree on your property is a great way to enhance its appearance and it is a fun project that you can do with your family.  A new tree brings a different element of natural beauty to a yard or landscape and it is also possible for a newly planted tree to increase property values.  While planting a tree might seem like a simple task, there is much more to it then putting the tree in the ground.  Different types of trees require different soil conditions and they need to be planted in an area where they will get enough sunlight and have room to grow to their full size.
Before you put a new tree in your yard in Wilmette, IL, contact the arborists of Hendricksen Tree Care to help with our tree planting services.  We can help you choose a tree that is best suited to thrive in the conditions on your property and we will also find a good area to plant it where it will have the nutrients and space it needs to grow and develop.  If there is a tree on your property that is not growing properly because it is in a bad spot, we can uproot it and plant it in a better spot with our tree transplanting services.
Benefits of Planting a New Tree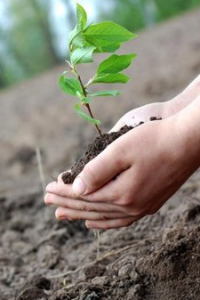 A new tree does much more for your property than improve its appearance or the design of your landscape.  The amount of shade will increase, lowering the temperature of your property and your cooling costs, and the air quality will improve.  The new tree will also provide wind resistance and reduce the risk of flooding in your yard by blocking some of the rain fall.  The biggest benefit of adding a new tree to your yard is that it will increase the value of your property.  If you have decided that it is time to add a new tree to your property, call the professional arborists of Hendricksen Tree Care to help.
Tree Planting
When choosing and planting a new tree, you need to consider the soil conditions on your property as well as the amount of sunlight and room the new tree needs to grow.  We will assess the condition of your soil and help you decide on a tree that has the best chance of thriving in the conditions of your property.  Once you have chosen a tree, our arborists can help you find the right spot to plant it so that it can grow unimpeded and get the sunlight and nutrients it needs.
Tree Transplanting
Sometimes, trees can end up in difficult areas where they do not get enough sunlight or nutrients or have the room they need to grow.  If you have a tree that is having trouble because it is in a bad spot, Hendricksen Tree Care can help.  Our arborists can remove the tree and the roots from its current spot and replant it somewhere where it has a much better chance of surviving.  We can complete these services effectively without causing harm to the tree.  Contact Hendricksen Tree Care to have our arborists check out a tree that may need to be replanted.
If you want to add a new tree to your property or move an existing tree that is growing in a tough spot, call Hendricksen Tree Care for professional tree planting and transplanting services.  Our arborists will recommend the best types of trees to plant in your property and make sure you put them in a good spot where they can grow and be healthy.  Give us a call at (847) 348-8302 to learn more about our tree planting services in Wilmette, IL.
---