As a provider of complete tree care services, Hendricksen Tree Care takes great pride in keeping the trees in Wilmette, IL and throughout Chicagoland healthy and well maintained.  For as much as we love to care for your trees and nurse them back to health when there is a problem, there are times when the damage to a tree is too much and it will need to be removed.  Issues including storms, insect infestations, and disease can cause significant damage to a tree and leave it in an unstable condition.
Our arborists at Hendricksen Tree Care will always take every step possible to save your trees, but we will also know when tree removal is the only option.  If a tree does need to be removed from your property in Wilmette, IL, we can handle the removal with our tree and stump removal services.  Trees that have experienced extensive damage are dangerous because the branches may break and fall, and the tree could be at risk of collapse.  It is best to have a trained arborist remove troublesome trees to ensure that it is done safely.  We have the right equipment to safely remove trees and we will also grind down the stump to remove the tree completely.
When to Remove a Tree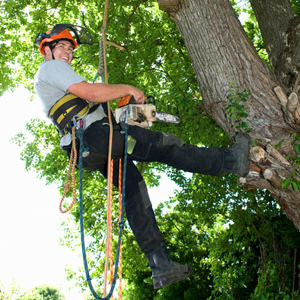 If a tree has sustained extensive damage and is in danger of having broken falling branches or collapsing, then it must be removed.  Trees affected by certain diseases or insects may also have to be removed to prevent its spread.  A heavily damaged tree is a major threat on your property because the branches or the tree can fall on your home, garage, vehicle, or powerlines, resulting in serious property damage and even injuries.  If you believe a tree on your property has sustained significant damage and needs to be removed, contact our arborists to evaluate the condition of the tree.  We will begin the tree removal process if we believe that removal is the best option.
Tree removal is likely needed if it meets one of the following conditions:
Cracks in the trunk and main branches
Serious damage from a storm
Advanced disease
Major insect infestation
Professional Tree and Stump Removal
The arborists of Hendricksen Tree Care are equipped to fell and remove trees from your property and ensure that the branches and stump are removed as well.  We follow ISA guidelines to remove trees safely and we can also fell trees in tight areas without damaging nearby buildings, powerlines, and other trees.  Once the tree is taken down and removed, we will grind the stump so that it is 4-6 inches below ground.
If you have a heavily damaged or unstable tree on your property in Wilmette, IL, contact Hendricksen Tree Care for tree and stump removal.  We will determine if your tree needs to be removed and make sure it is removed completely from your property.  Give us a call at (847) 305-5524 for more information about our tree and stump removal services.