Trees are not only a beautiful feature of yards and landscapes, they also bring several other benefits to a property including extra shade, oxygen, and wind resistance.  Adding a new tree to your yard is a fun project that can improve the overall aesthetics and value of your property.  Yet adding a new tree isn't as simple is just planting one in the ground.  You have to consider different factors that will affect the tree's growth such as the climate, soil condition, and space it has to grow.   Before you plant a new tree, consult with the arborists of Hendricksen Tree Care.  We provide tree planting services in Winnetka, IL to ensure that your new tree is planted in the best area of your property to grow to its full potential.  We also offer tree transplant services to remove and replant a tree that is growing in a difficult spot.
Why Plant a Tree?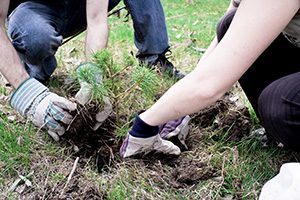 There are several reasons to add a new tree to your property.  Most people plant new trees to improve the aesthetics of their yard which can increase the value of the property.  However, the added natural beauty of a new tree is far from the only benefit.  The extra shade from a new tree will cool the temperature of your property which can result in lower cooling costs in the summer.  Another tree will also improve the air quality by producing more oxygen and help protect your yard from rain which will reduce the risk of flooding.  Many people plant new trees as a family project so they can take care of it and watch it grow together.
Tree Planting
You must put some thought into choosing a new tree and pick one that is best suited to survive the conditions on your property.  Our arborists can check the soil condition of your yard and help you choose a tree that can thrive in these conditions as well as the local climate.  We will also take common insects and diseases into account to help you choose a tree that is more resistant.  Once you have chosen your new tree, our arborists will help determine the best place on your property to plant it so that it gets enough sunlight and has the space to grow.  If the tree is not planted in the best spot, it may eventually have to be transplanted or removed entirely.
Tree Transplanting
If a tree is planted in a less than ideal spot, it may not be getting enough sunlight or nutrients, or have the space it needs to grow.  In these cases, the best thing for the survival of the tree is to uproot it and replant it in a better area.  At Hendricksen Tree Care, we provide full tree transplanting services to move trees to a more ideal growing spot.  Our arborists will uproot the tree without harming it and replant it in a spot that allows for better growth.  If you think that a tree on your property needs to be transplanted, our arborists will examine the tree and advise you on your options.
If you are considering planting a new tree on your property in Winnetka, IL, consult with our professional arborists at Hendricksen Tree Care.  We will inspect your property and advise you on the best type of tree for your property, as well as the best spot for planting.  Give us a call at (847) 305-5524 for more information about our tree planting or tree transplanting services.
---
Reviews:
Review by Steven Curl
Tree Care Services
Rating

"They took down a pine in my front yard. They did a great job at fair price. Highly recommend, would hire again."
---
Review by Scott Hansen
Tree Care Services
Rating

"Great tree trimming company very professional. Upfront with your costs. Considerate of your property."