One of the most important and effective ways to maintain your trees is to trim the branches at least once per year.  Over time, tree branches can become damaged, broken, or decayed and some can even die on the tree.  These branches must be removed to preserve the health of your tree and improve its structural integrity and appearance.  It is also necessary to trim tree branches that have grown around powerlines or over structures such as your home or garage.  At Hendricksen Tree Care, we provide tree pruning services in Winnetka, IL to safely and effectively trim trees that are due for a pruning.
Some may believe that they can handle tree trimming themselves, but this job is not as easy as it seems.  Trimming trees, especially large trees, can be dangerous if you do not do it properly.  Pruning healthy branches or cutting too much off the damaged or decayed branches can also result in harm to your trees.  Our arborists at Hendricksen Tree Care can tell which branches of your trees need to be removed, and we have the proper equipment to prune your trees safely without causing additional damage.  We can handle pruning branches in tall trees as well as pruning in sensitive areas near buildings and powerlines.  Your trees will look better and have a stronger canopy after they have been properly pruned.
Professional Tree Pruning and Trimming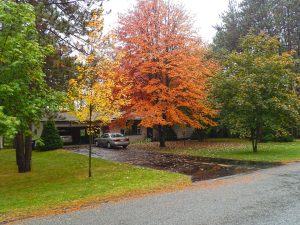 Our ISA certified arborists are trained and equipped to provide safe tree pruning services.  We will remove the right branches to help protect your tree's health and improve its structure without causing any damage to the tree.  Our tree pruning services will benefit your trees in the following ways:
The health and strength of the tree will be improved
Dangerous, diseased, and dead limbs will be removed
More sunlight will shine through for better undergrowth
Resistance to insects and diseases will improve
Resistance to storm damage will improve
If you have any of the following issues on your property, talk to our professionals about tree trimming services:
Loose, dead, or decayed branches
Branches near powerlines
Branches close to the home, garage, or other structure
You should also consider tree pruning services if your tree hasn't been trimmed in three years or more or if you want your trees reshaped.
If it is time to trim your trees in Winnetka, IL, call Hendricksen Tree Care for tree pruning services from our professional arborists.  Our tree pruning services will help preserve the health and integrity of your trees and improve their appearance in your yard or landscape.
Call Hendricksen Tree Care at (847) 348-8302 for more about our tree pruning services.
---
Reviews:
Review by Steven Curl
Tree Care Services
Rating

"They took down a pine in my front yard. They did a great job at fair price. Highly recommend, would hire again."
---
Review by Scott Hansen
Tree Care Services
Rating

"Great tree trimming company very professional. Upfront with your costs. Considerate of your property."
---